Creating an Elevator Pitch
By Michelle Yozzo Drake
Long-time readers of my blog and listeners of my podcast "Tips from Michelle" (available FREE at iTunes) have often read and heard me offer advice peppered with business jargon. Occasionally, I toss out a term or phrase and neglect to define it for those of you out there who are unfamiliar with the ever-changing vocabulary of business. I welcome the opportunity to clear up any confusion about terms or concepts - all you have to do is e-mail me like Jerry here:
"Dear Michelle,
I've been listening to your podcast and reading your blog at MichelleYDrake.com for the past couple of years, and several times you've mentioned how important it is to have an 'elevator pitch' ready at all times. What exactly is an 'elevator pitch' and how can I make sure that mine wows potential clients, contacts and even employers?"
(Article continues after the break)

********************************************************************************************** Want more FREE advice on skyrocketing your career to the next level?

Sign up for Michelle's FREE e-zine "Lipstick Leadership" at LipstickLeadership.com!

Tips, tools, insights and inspiration - "Lipstick Leadership" has it all!

Don't miss your chance to get the power, prestige and prosperity YOU deserve!
*********************************************************************************************

Excellent question, Jerry. An "elevator pitch" is a concise, carefully planned, and well-practiced description of your company or what you do as an employee that even your fourteen-year-old can understand! You must be able to deliver this pitch in the time it would take to ride up an elevator.
Picture having the perfect potential client in that elevator with you, and they ask, "What do you do?" You have an opportunity before those elevator doors open to make a new client or contact, and you'd better jump on it quickly by having something already prepared and ready to deliver.
It's the same thing if you're employed by someone, and the "big boss" that you'd love to get some face time with happens to be on the elevator with you. Introduce yourself, but if you just give him your name, chances are he won't remember you once the doors ding and he steps off onto his floor. And he won't know what the context is in which you work. Are you part of his marketing team? Finance? Sales? Tell him because you never know when you'll run into him again or when a new project pops up demanding someone with your expertise.
I have a quick formula to help you create a great elevator pitch. Here it is:
(Article continues after the break)

**********************************************************************************************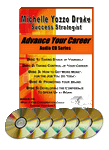 Frustrated with a stalled career? Wish you had more control over your professional destiny? Still waiting to move up to that next level in your organization?

Announcing the proven career secrets that will get you the promotion you've been waiting for!

The Advance Your Career Program featuring Michelle Yozzo Drake

With over twenty years experience as a Communication Strategist, Michelle Yozzo Drake claims you have more control than you think you do, and she's ready to show you how to get the job and the salary you want, the way you want it!



Stop waiting for that promotion and reach out and grab it today!
Visit AdvanceYourCareerToday.com!

**********************************************************************************************

"Hi. I'm [insert your name]. I help [insert your potential customer] do [insert the service you deliver]."

You then follow this up with a call to action: "If you know someone who needs [insert the service you deliver], give me a call." And then you hand over your business card.

Let me give you an example:

"Hi. I'm Michelle Yozzo Drake. I help businesses that are struggling improve their bottom line. I do this by one-on-one coaching and small group coaching through my CEO Secret Blueprint program. If you know any small business owners who'd like to make more money, then have them give me a call. Here's my card."

Now this person knows exactly who I am, what I do, and how I can help them or people they know. And I've also managed to work in a little selling of my coaching program CEO Secret Blueprint, too!

If you're an employee face-to-face with the big boss, the formula is basically the same:

"Hi. I'm [insert your name]. I work in [insert your department] and I [insert a few things you do that add value to the company]."

You might then follow this up with a recent accomplishment instead of a call to action. Here's an example:

"Hi. I'm Jane Smith. I work in the marketing department, and I create our online promotions and mailers. Recently, I initiated a brand new ad campaign, and it's increased our exposure by 35%." The boss will have a hard time forgetting your face and name because you immediately connected yourself to a positive impact on the company.

So Jerry and all of you professionals and entrepreneurs out there: fill in the blanks in my formula to create your own elevator pitch, and go out there and snag new customers or important one-on-one time with the CEO of your company!



For more FREE tips on advancing your career and navigating the workplace, sign up for my FREE e-zine "Lipstick Leadership" at LipstickLeadership.com today! And check out the products I've developed to guide you toward the success you deserve!


�Character cannot be developed in ease and quiet. Only through experience of trial and suffering can the soul be strengthened, ambition inspired, and success achieved.� � Helen Keller