Small Budget Marketing Ideas
By Michelle Yozzo Drake

Aside from speaking, one of my biggest passions in life is working with entrepreneurs to build and grow their businesses. I'm a entrepreneur myself, and I've seen great success creating my consultancy, The Cove Group, Inc., and the teacher in me loves to share the insights I've gained through that process with other fledgling small business owners.
I'm in the process of launching an exciting new program called CEO Secrets Blueprint. Don't you wish you had the strategies and secrets that the "big boys" in business have? Well with this program, you can! I've worked with major Fortune 100 companies and highly successful organizations as an executive coach, and my clients have shared with me some of the most amazing tools and tactics for creating multi-million dollar yearly profits, devouring market share, hiring top industry stars, and so much more. Now I plan on sharing those secrets with a select clientele of entrepreneurs and small business owners who want their businesses to soar.
The website for CEO Secrets Blueprint is almost ready, so check back here at my blog for more information. In the meantime, as luck would have it, I received an e-mail from Lucy in Freeport asking for advice on marketing her small business, and I thought all of you entrepreneurs out there would appreciate checking it out:
"Dear Michelle,
I own a small business - a flower shop - and my marketing budget is practically nonexistent. But I know that marketing is one of the most important aspects of running my business successfully, and I wondered if you had any ideas for promoting my business without breaking my bank account."
I remember those years of shoestring marketing budgets well, and with a little creativity and ingenuity, I managed to come up with a few great (and inexpensive) marketing ideas for your business and all small business out there.
(Article continues after the break)

********************************************************************************************** Want more FREE advice on skyrocketing your career to the next level?

Sign up for Michelle's FREE e-zine "Lipstick Leadership" at LipstickLeadership.com!

Tips, tools, insights and inspiration - "Lipstick Leadership" has it all!

Don't miss your chance to get the power, prestige and prosperity YOU deserve!
*********************************************************************************************

Even though it's one of the most expensive forms of marketing, advertising in the newspaper, magazines, online, etc. is key to getting attention for your business. Set aside the bulk of your marketing budget to spend on well-placed, highly visible ads in periodicals or on sites that really reach your target audience. Do your research to uncover what those periodicals and websites are and start a relationship with the person in charge of the ads - they might be able to give you a price break or even offer you a last-minute slot if the space is available.
Aside from where to advertise, WHAT your advertisement says is crucial. Writing compelling ad copy is an art form, but with a little practice, you can do it! Let's start by focusing on the benefits of your business. What makes your flower shop unique? You have to have at least one differentiating factor in order to stand out from the crowd, whether it's your stellar customer service, convenient location, low prices or the types of flowers you offer. This unique element becomes the anchor and focal point in all of your marketing.
Once you've decided what's unique about your business, then you need to start to think about headlines. How are you going to capture people's attention in ad copy? One of the great resources for excellent headline examples is kind of unlikely. The next time you visit the grocery store and you're standing in line waiting for the cashier to ring up your purchases, take a look at all of the gossip magazines on the racks. Believe it or not, they are fantastic examples of headlines that capture people's attention and draw them into wanting to read more. Grab a few of them (hide them under your bread if you're embarrassed!) and use them as research, twisting the concepts behind them to create powerful advertising for your business.
In addition to these ads that are probably going to eat up your budget, here are a few other marketing tips that are relatively inexpensive but wildly effective:
1. Create a video on how to do arrangements. You don't need a professional videographer to do this; any home camera on a solid surface (to prevent shaking) will do. Use the video as a free giveaway/promotional item.
(Article continues after the break)
*******************************************************************************************
Imagine having everything you need to start and grow your own successful business right at your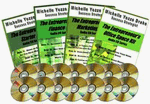 fingertips!



Michelle Yozzo Drake presents:
THE ENTREPRENEUR'S MASTER KIT

14 Audio CDs on topics ranging from business start-up to finance to marketing!



ORDER YOURS TODAY!
********************************************************************************************


2. Donate floral arrangements to prominent businesses in your area: big corporations, doctors' office waiting rooms - anywhere people are constantly streaming in and out of, and make sure you leave your card prominently featured in the arrangement or a stack of cards by the arrangement.

3. Start a blog like this one! Post entries on tips for flower arranging, spotlights on different flowers, the best occasions for sending flowers, etc. Link it back to your website and contact information, or if you don't have one, treat the blog as your website. Don't forget that contact information!

4. Take pictures of floral arrangements you've done that you're proud of and will impress potential buyers, and post them online as well as in your store or store window. Create a whole display of beautiful pictures and people won't be able to walk by without taking a look!

5. Host a series of free or inexpensive flower arranging lessons right there at your shop. As you teach, you can build a rapport with your students and start creating a relationship. Whether they want to purchase an arrangement or just the flowers to arrange themselves, they're going to come to YOU. You become the trust friend and supplier.

6. Focus on places where flower-clueless people exist and reach out to them. Generally, these areas are in male-dominated industries (sorry, guys)! Stop by your local firehouse, police station, even lawyers' offices and leave free samples. This is especially effective around the holidays. Those guys are going to need to buy their wives and girlfriends flowers for Valentine's Day - why not buy them from you?

I hope these tips have helped you, Lucy, and all of the small business owners out there. Don't forget to check back for more info on my entrepreneurial coaching program CEO Secrets Blueprint - it's going to be AMAZING!


For more FREE tips on advancing your career and navigating the workplace, sign up for my FREE e-zine "Lipstick Leadership" at LipstickLeadership.com today! And check out the products I've developed to guide you toward the success you deserve!


�Courage is being scared to death � but saddling up anyway.� � John Wayne