6 Tips for Networking Success
By Michelle Yozzo Drake

Chicago, here I come!
Tomorrow I'll be on my way to the Windy City, home of amazing deep dish pizza (although in my Long Island heart, I'll always be partial to New York slices!), incredible architecture, and "Da Bears" (and Bulls, White Sox, Cubs... - this is what happens when you live in a house full of men!)
I'm part of group called the Mega Inner Circle Network created by Mark Victor Hansen (who's written some of my favorite books, the Chicken Soup for the Soul series). Being a member means having the opportunity to take part in "Immersives" that promise to be educational and entertaining conferences featuring major players sharing their success secrets and advice. This weekend is the Chicago Immersive and I am so excited! Why? Well, for one thing: I love to network!
I'm a talker, a speaker, a gabber, a chatter, a chewer of the fat - and during networking events, I'm in my glory. But I realize that I'm also in the minority: most people dread networking events more than Tax Day, and they wind up wondering why they even bothered to show up.
To all of you networking-phobes out there, here are my 6 best tips for improving your networking skills:

(Article continues after the break)

**********************************************************************************************
Want more FREE advice on skyrocketing your career to the next level?

Sign up for Michelle's FREE e-zine "Lipstick Leadership" at LipstickLeadership.com!

Tips, tools, insights and inspiration - "Lipstick Leadership" has it all!

Don't miss your chance to get the power, prestige and prosperity YOU deserve!
*********************************************************************************************

1. Remember: this conference is NOT a party. Don't let a swanky location, tables of food and a river of alcohol, music and even the dancing fool you. This is a professional development event, not a kegger. You want to be remembered as someone competent and collected, an expert who can gets the job done...not the jerk slobbering on everyone and dancing on the table. And don't forget to hone your communication skills and be aware of your body language, too!
2. Create a plan of attack. "A failure to plan is a plan for failure, " I think the saying goes. You've got to approach this event as strategically as possible: what are your goals? How will you go about achieving them? What does success look like; meaning, when you're driving or flying home, how will you know this event was a success for you? If you're a small business owner, review the marketing section of your business plan; if you're part of an organization, refresh your memory on departmental goals and objectives.
3. Connect with the sponsor. Most networking events have either a person or an organization sponsoring the event, and they most likely have a vested interest in its topic/theme. Find out what they're hoping to get out of the event - you might just find yourself a partner for a joint venture or even a potential customer!

(Article continues after the break)

**********************************************************************************************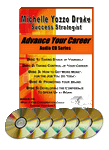 Frustrated with a stalled career? Wish you had more control over your professional destiny? Still waiting to move up to that next level in your organization?

Announcing the proven career secrets that will get you the promotion you've been waiting for!

The Advance Your Career Program featuring Michelle Yozzo Drake

With over twenty years experience as a Communication Strategist, Michelle Yozzo Drake claims you have more control than you think you do, and she's ready to show you how to get the job and the salary you want, the way you want it!



Stop waiting for that promotion and reach out and grab it today!
Visit AdvanceYourCareerToday.com!

**********************************************************************************************

4. Connect with the speaker(s). Read the literature on any workshops, panel discussions and seminars being offered and research the speakers helming these sessions. They are usually high-level experts who have amazing insights! Is there someone that you'd like to meet to chat about their topic, pick their brain or even woo into becoming a client? Send them an e-mail or give them a call and invite them out for a drink or lunch. As a professional speaker, I can tell you first hand that it gets lonely on the road. I would jump at the chance to have lunch (and an intelligent discussion) with someone interested in my work.

5. Don't forget to prepare your elevator pitch! After the requisite handshake and "Hi. My name is ___________," you need to be able to quickly and concisely tell someone exactly who you are and what you do. Keep in my mind favorite phrase: "What's in it for them?" State your name and your organization, and then frame your work in a benefits-driven way. If you're at an industry event where everyone is basically doing the same thing, take the opportunity to do some reconnaissance work: what projects are others working on? What kind of marketing are they doing? Is there any room for partnerships or the creation of relationships that might be mutually beneficial in the future?

6. Quality, not quantity. What's the use of collecting 300 business cards if they're all worthless? When I'm away on a weekend conference, I consider it a success if I make two solid contacts. These contacts are interested and enthusiastic about my work and vice versa, and there is a potential for work with them in the future.


For more FREE tips on advancing your career and navigating the workplace, sign up for my FREE e-zine "Lipstick Leadership" at LipstickLeadership.com today! And check out the products I've developed to guide you toward the success you deserve!


�It isn�t until you come to a spiritual understanding of who you are � not necessarily a religious feeling, but deep down, the spirit within � that you can begin to take control.� � Oprah Winfrey